MMB Workshops
The Midwifery Mentoring & Belonging (MMB) program is committed to mentorship, community building, and fostering meaningful experiences for BIPOC students and the greater BIPOC midwifery community in California (currently, the program is only for students at UCSF (University of California at San Francisco) + California State University Fullerton). MMB promotes structured support along each student's education journey. The quarterly MMB Workshops are one of MMB's offerings to build community. 
What are MMB Workshops? 
Through this dedicated space, MMB program participants have supported time to gain tools to make the most of the mentoring relationship. The workshops are led by Naledi Saul, Director of the UCSF Office of Career and Professional Development. These are required for mentors and highly recommended, but not required, for mentees. Duration: 1 hour. Frequency: Quarterly 
Who can join the quarterly MMB Workshops?  
Live sessions are currently for MMB mentors and mentees only. The workshops are not available for public viewing to respect our program participant's privacy. There are pre-video and pre-work materials prepared for each workshop, which can be found below. 
Additionally, we created a handy workshop worksheet to support mentoring relationships. Please feel free to use!  
Setting Mentoring Goals is as Easy as 1, 2, 3!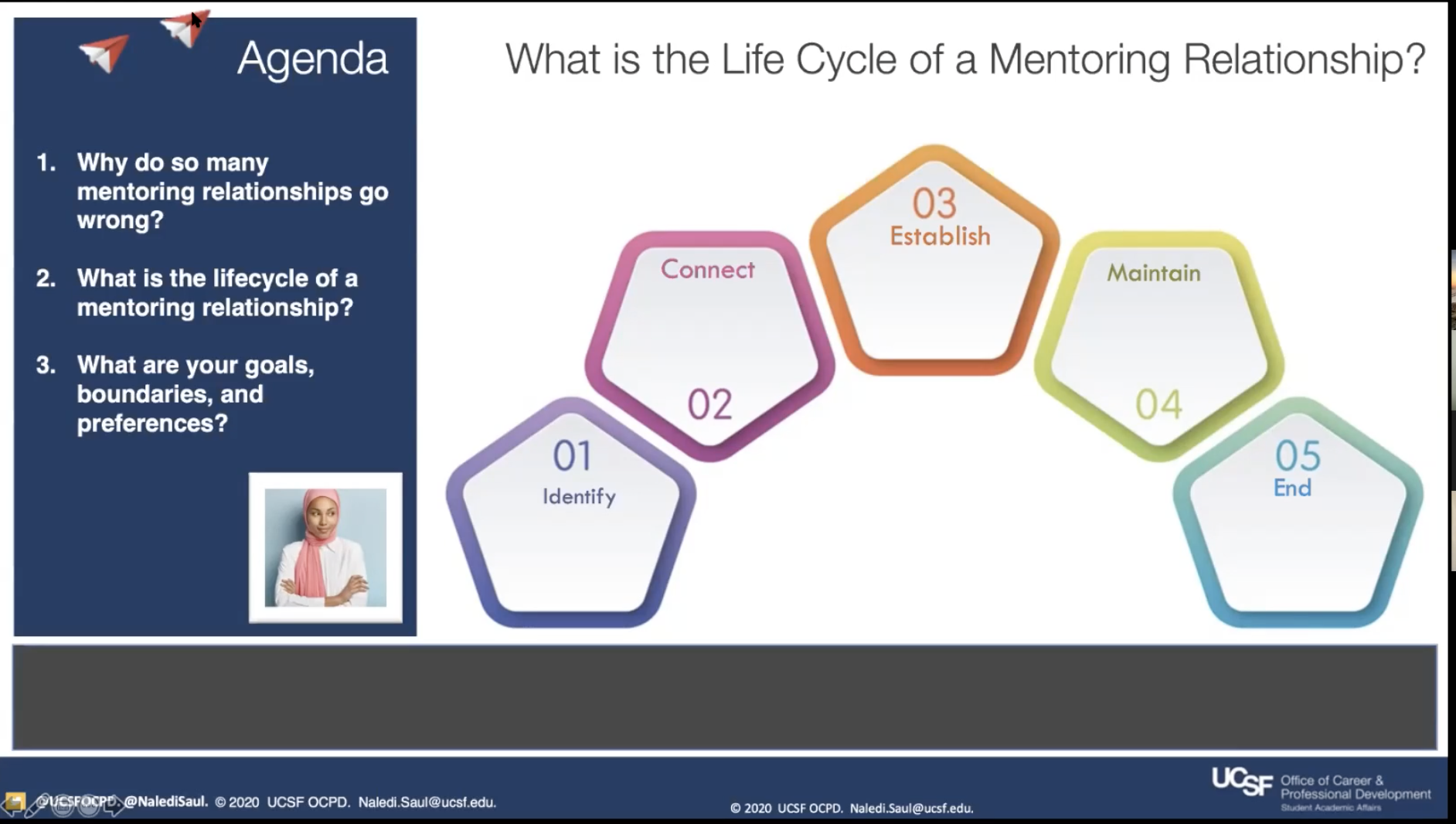 Please note: All pre-workshop videos & materials for Summer 2022 are included on this page.
| MMB Spring 2022 Workshop |   |
| --- | --- |
| | |
| MMB Winter 2022 Workshop |   |
| --- | --- |
| | |
​MMB Fall 2021 Workshop: Introduction to Mentorship
Videos: